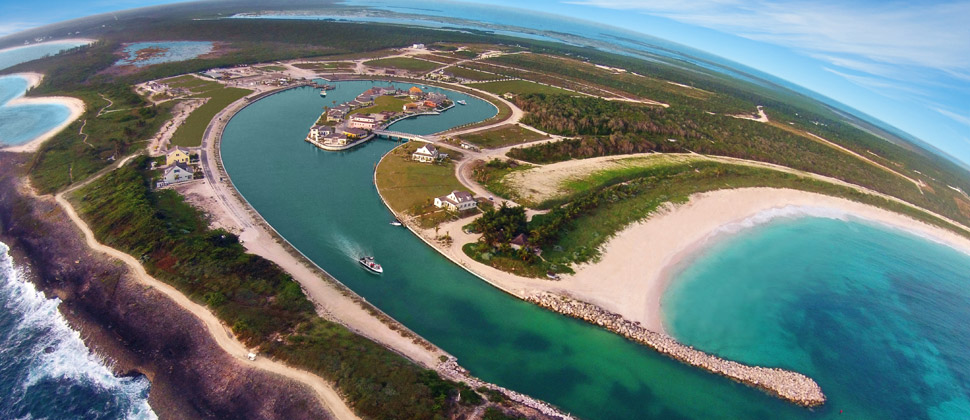 Schooner Bay Announces New Condo Building, Sports Complex, Island-Inspired Restaurants
Eco-Friendly, Sustainable Harbour Village Continues to Attract Attention With Expansion
ABACO ISLAND, BAHAMAS–(Marketwired – July 01, 2014) – Schooner Bay, a revolutionary, sustainable real estate development on Great Abaco Island has announced plans for property additions.
Aside from the unique, Bahamian style homes buyers have the opportunity to build, condominiums are now also for sale at this one-of-a-kind harbor village. Schooner Bay's newest residential offering is called Verandah House. Priced from just $395,000, the one- and two-bedroom condominiums range from 650 to 1,400 square feet. The Verandah
House represents authentic Bahamian architecture with an Alaskan yellow cedar shingle roof and dual covered verandahs that allow residents and guests to enjoy outdoor living and the Atlantic sea breeze.
"The Verandah House is a no-brainer for homeowners who love visiting the Bahamas and appreciate having rental income to offset their investment," said Mark Pordes, CEO of Pordes Residential Sales and Marketing, the company handling sales at Schooner
Bay. "They can come enjoy their amazing condominium at their leisure, and rent it out the rest of the time. The staff at Schooner Bay will handle all the details."
The Verandah House will have an enviable location at the harbour's edge, adjacent to the Sports Complex, which is scheduled to open later this summer. Construction is currently underway for a tennis court, half basketball court, beach volleyball, pickelball and a children's tot lot.
Also nearing completion on the property are two new dining options for Schooner Bay residents and guests, the Snack Shack and Harbourside Grille. The Snack Shack will offer traditional Bahamian fare and the Harbourside Grille will offer Caribbean fusion
dishes. These additions will complement the Beach Cabana Bar and Grill that currently serves lunch from 11 a.m. to 4 p.m. Thursday through Sunday and a brunch buffet offering every Sunday from 10 a.m. to 1 p.m.
Schooner Bay is located just 75 miles from Nassau. It can be accessed via Sandy Point Airstrip or Marsh Harbour International Airport which just opened a newly built facility. The airport has direct flights to Orlando, West Palm Beach, Fort Lauderdale and Miami Florida and destinations throughout The Bahamas. Schooner Bay is one of the largest scale residential projects currently being marketed in the Bahamas.
For more information, please visit www.schoonerbaybahamas.com or call the Schooner Bay
Sales Office at 242-366-2048 or 888-275-1639.
ABOUT PORDES RESIDENTIAL SALES & MARKETING
Pordes Residential Sales & Marketing sells, markets and invests in unique residential condominium opportunities. The company has globally marketed Florida luxury condominiums, including Canyon Ranch Living Miami Beach and One Bal Harbour. The
company works with developers and third-party lenders to reposition residential projects. Outside of Florida, the firm partners with developers in Las Vegas and the Caribbean.