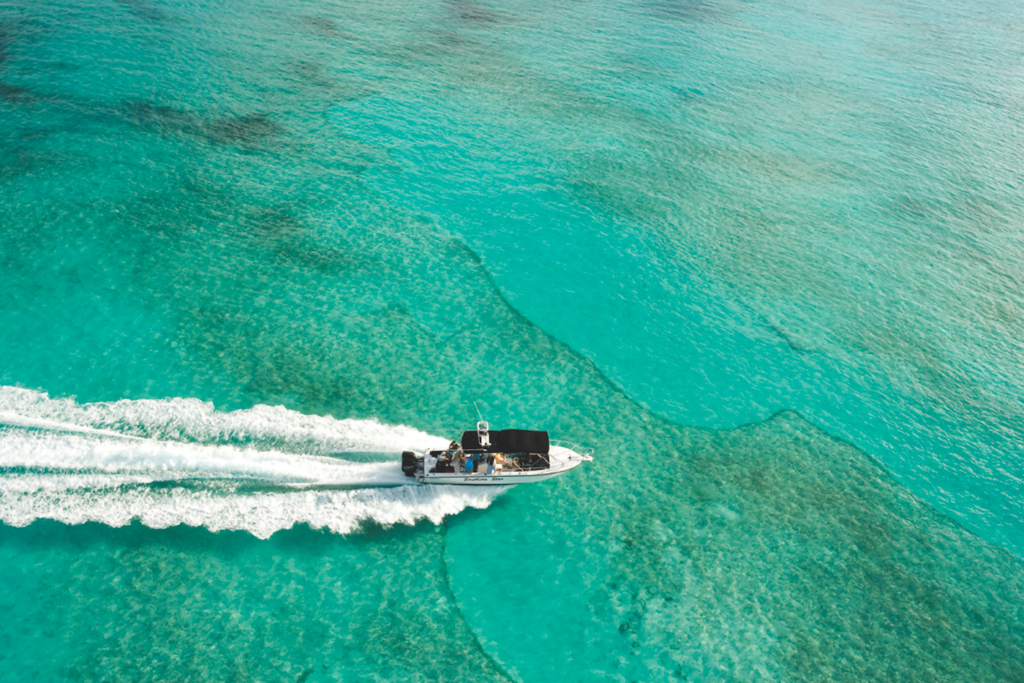 Island Hopping from Schooner Bay
It is said that the treasures of the Abacos are its cays, tiny islands looped like a string of broken pearls windward and leeward of mainland Abaco. They are protected by the third- largest barrier reef in the world. The diving is spectacular.
Given this geography, your trip to Great Abaco should include some island hopping, starting with Elbow Cay, Great Guana, Green Turtle and Man-O-War. Travel via Albury's Ferry, a family business known to customers for its impeccably run schedule and small acts of kindness.
Your first hop is the easiest. Board the ferry at Marsh Harbour for a 20-minute ride to Elbow Cay. Debark at Hope Town. A walking and biking community, this old Loyalist capital is the heart of Elbow Cay. There is much to please the senses here, especially when savoured at a meandering pace. Discover a candy cane-striped lighthouse and waterside restaurants, along with colonial Bahamian homes and shops lining bloom-filled streets. And don't miss a visit to the volunteer-run museum that tells the Loyalist story, including that of the town's founder, Wyannie Malone, who immigrated from Charleston, South Carolina with her three sons to start a dynasty "that spread the name Malone throughout the Bahamas, over to Florida and outwards from there."
Great Guana Cay is actually quite walkable, but since it's known for snorkeling and diving you'd best get in the water! Consider renting a boat for easy access to the best
spots  or try a guided excursion with www.diveguana.com
or www.diveabaco.com.
Green Turtle Cay, named for the population of green turtles once there in abundance, whispers its Loyalist heritage in the town of Newport, while beautiful beaches invite you to slow down and breathe deep.
For another day? Man-O-War Cay is the boat-building centre of the Abacos, where shipwrights continue to build the famous Abaco dinghy by hand and the Albury brothers' name, rooted here, will resonate with any who love a sea-kindly boat.
Two quick notes round off a visit to Man-O-War Cay. For Civil War history buffs, wreckage of the Union's USS Adirondack lies just off this cay. For everyone else, keep an eye out for Miss Lola Sawyer. A distinguished elder, she'll be driving a golf cart stocked with homemade cinnamon buns. Try one. Or two. Or …