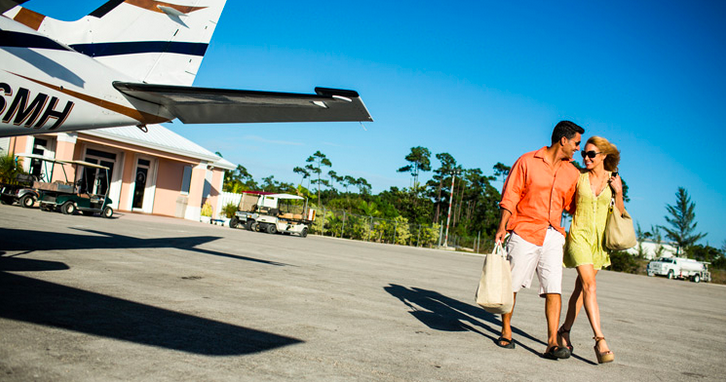 The Gateway to the Bahamas
GREAT ABACO BY AIR
Major airlines depart daily from Florida's gateway cities to Marsh Harbour International Airport (MHH). Carriers include United / Silver Airways, Delta, US Airways and American Airlines / American Eagle. Connecting flights out of Florida and Nassau  Bahamasair, Sky Bahamas, Western Air – out of Nassau to Marsh) offer further access to major U.S.  and international cities.
Commercial:
– Marsh Harbour International Airport is a 30-minute drive from Schooner Bay.
– Current facilities can accommodate regional jets, while a new state-of-the-art terminal has recently opened.
– A direct route from the southeast U.S. corridor to MHH is anticipated.
– Eight daily commercial flights from four Florida gateway cities to MHH.
– Seven daily commercial flights from Nassau to MHH.
Civilian:
– Sandy Point Airstrip is a 20-minute drive from Schooner Bay.
– Accessible via prop planes and light jets.
GREAT ABACO BY SEA
Easy ferry access to other islands and cays
Via Bahamas Ferries. From Sandy Point, the trip to Nassau takes three hours, 20 minutes on an air-conditioned ferry. Visit bahamasferries.com to obtain a schedule. Times vary throughout the year. You can book your trip on the website. 
Via Pinder's Ferries. Between Crown Haven at Abaco's northern tip, you can catch Pinder's Ferry to McLean's Town on Grand Bahama. From there, a bus or taxi will get
you to Freeport, 50 miles away.
Albury's Ferries depart daily from Marsh Harbour to its neighbouring cays. It's a 20- minute trip to Elbow Cay and Man-O-War Cay and a 30-minute trip to Scotland Cay.