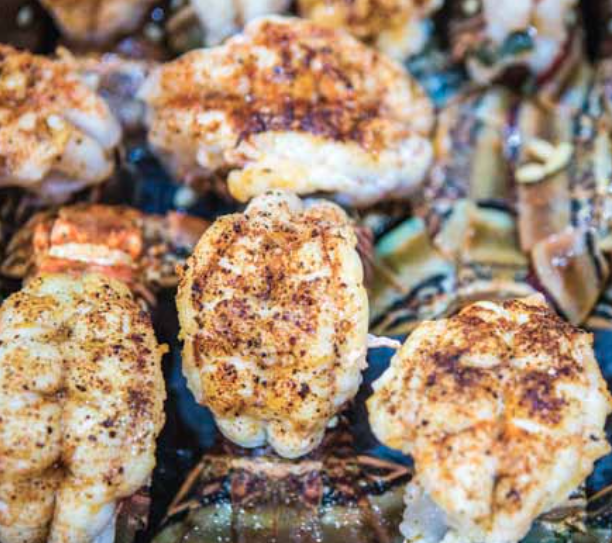 A Taste of Schooner Bay
What transports the imagination? What stirs the soul as surely as a chef stirs his ingredients? As you stroll along the waterfront or sit at the Cabana, a breeze carries that particular scent that says you are home, even if it is only the home of your heart. There is nothing quite like fresh food in the salted air of Schooner Bay.
Located on a protected harbour not a half mile from bountiful deep-sea fishing, it's not surprising that stunningly fresh seafood is available in abundance. What might be more surprising in finding farm-to-table organic produce nestled right beside it. The produce from Lightbourne Family Farm, Schooner Bay's organic, hydroponic farm is gaining notoriety up and down the island. Delivered the day they're picked, these vegetables are the mainstays of grocers and residents and the inspiration for the local chefs.
TRIO
Three chefs, good friends from The College of The Bahamas' culinary program, have reunited to form Trio Catering. Antonio Huyler explains their approach.
"We started in hotels, but realized that food represented what they thought tourists wanted. But cheeseburgers, for example, weren't what we wanted to do. So when we came home we thought it would be cool to showcase local ingredients in food inspired from around the world. Conch with sweet plantain for sushi. Lobster club with bacon and mozzarella. A Chinese-inspired sweet-and-sour conch over jasmine rice."
And while they make a wicked handmade pizza with all Bahamian ingredients, the piéce de rèsistance, the dish ordered again and again, is lobster poached in vanilla and butter sauce. Yes, you will need this phone number: 242-426-5440.
JUDY MAE'S CATERING
At the other end of the culinary range – and oh sooo tasty – we have Judy Mae's Bahamian down-home ambrosia. With peas and rice or baked macaroni – neither of which bears any resemblance to their U.S. cardboard counterparts – crawfish, snapper, chicken and plantain and so much more, Judy Mae's food has been making people happy for years.
Judy Mae: 242-475-6177 
BLACKFLY LODGE
Open to public for dinner with advance reservations only, Blackfly Lodge is family-style dining taken to a whole new level. A three-course meal features just-picked vegetables and just-caught fish in recipes like chili fish with Asian slaw. And if you're there on just the right night, you might get homemade Aztec chocolate ice cream on brownies – with vanilla vodka and Frangelico served in a raw brown sugar-rimmed glass with lemon on the side.
Call 242-458-5577
CABANA BEACH BAR AND GRILL
Open from midday until dark, Wednesday through Sunday, the Cabana offers grilled foods, wine, mixed drinks, beer, soda and juice. For your own libations, be sure to check in at the store for the Beach Shack Mojito Pack, a handmade muddler packaged with fresh Lightbourn mint. Your evenings may never be the same.