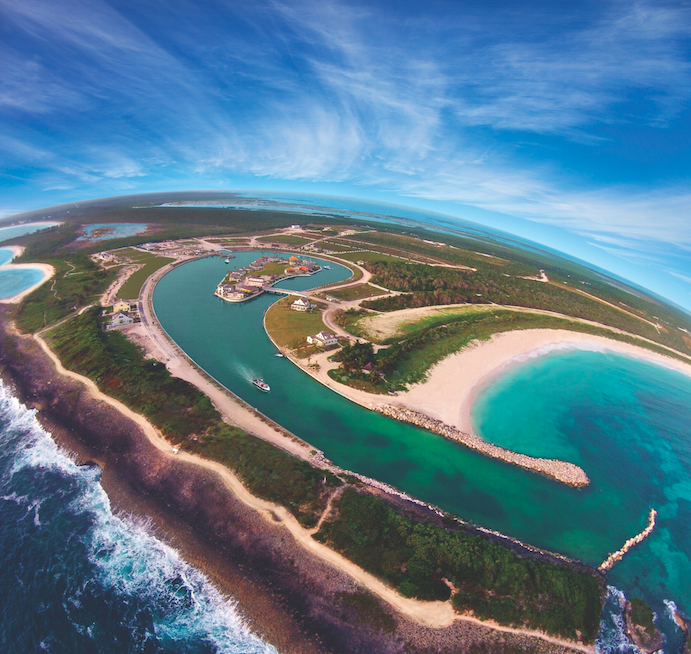 Welcome to South Abaco Living at Schooner Bay…
… where a dramatically new, unique concept of island living is quietly evolving on this delightful Bahamian out-island.
In recent years, visionary thinking has been brought to bear on the need for a new way to create a South Abaco community with totally self-sustaining infrastructure that leaves the island's natural wonders unspoiled.
Schooner Bay is the innovative result of that thinking. The unobtrusive yet highly efficient supply of water, electricity, air-conditioning, hydroponic farming, waste disposal – all are based on recently proven nonintrusive technologies. A new kind of community is rising on the eastern shore of South Abaco – a charming, sustainable, eco-friendly "New Urbanist" settlement.
In these pages, you'll discover how those terms help define the development of Schooner Bay, terms in which the meanings express highly desirable differences in the way life will be led on South Abaco. A good life in a sportsman's paradise where bonefish are stalked a few feet out with the larger varieties abundant in deeper water, where there's a lodge at the centre of it all devoted to sportfishermen, where you can have vegetables that have been freshly picked every morning. The list is long; the life is sweet.
Yet the forward-looking technologies setting Schooner Bay apart are virtually invisible, leaving the caressing breezes and sunshine of the Bahamas to work their magic together with the people of South Abaco. The Abaconians smile readily and speak softly with the pride and humour of their centuries-long heritage. They are the true "welcome to South Abaco," and they'll make you feel at home from the first moment.
At Schooner Bay, you and your family will enjoy breathtaking natural surroundings as you discover – and make your own – a way of life that cherishes the fragile wonders of South Abaco and the sparkling sea surrounding it.