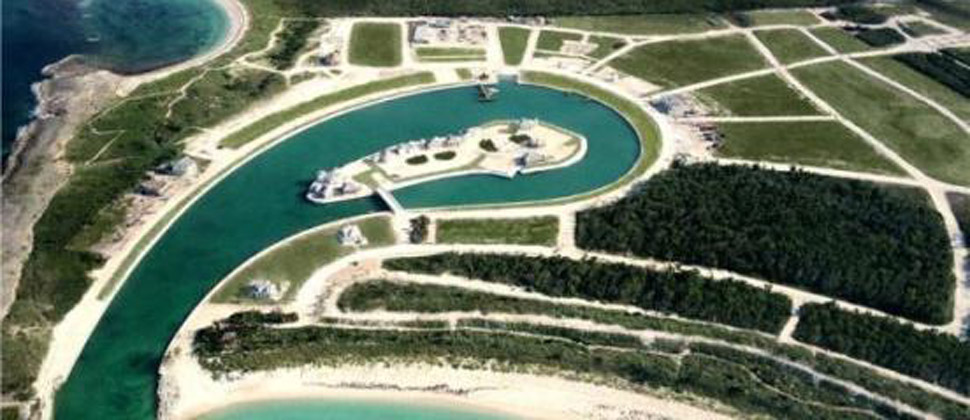 Sustainability Feature: Schooner Bay Cistern
By Schooner Bay
December, 2013
Visitors to Schooner Bay encounter one of the most breathtaking views in all of The Bahamas as they ascend the ridge that overlooks the village, harbour, beaches and sea. To the naked eye, this summit appears to be little more than a coconut grove with a view; yet, the windswept plateau offers more than a dramatic vantage point. Buried beneath the ridge-top is a massive cistern capable of storing in excess of one million gallons of fresh, naturally-provided rainwater for the benefit of the Schooner Bay community.
Schooner Bay's cistern was created by cutting a 1.3 acre box out of the limestone hill-top to a uniform depth of 12'. The box was then lined with a waterproofing barrier, outfitted with PVC laterals and backfilled with sand, which acts as a natural filter. The surface was planted with grass and coconut palms and restored as a natural ridge and overlook dotted with indigenous flora. Schooner Bay's water cistern is exemplary of our approach to sustainable development. This is a simple, effective, invisible, biological solution to resource management that utilizes natural processes and requires virtually no maintenance.
There are no moving parts in the entire system save for a single valve, and there are no metal parts to maintain against rust or  corrosion. The rainwater is filled from the lee of the hill to protect against saltwater contamination and then  gravity-fed into the village from the ridge elevation of  40'. Once mature, the coconut grove will provide shading for the cistern, allowing less evaporation and increased percolation into the tank for storage. This water source will exist as a community resource for landscape and fire prevention and an emergency backup supply for the village. It is one of the many simple, sustainable infrastructure solutions designed to benefit the Schooner Bay community for generations to come.