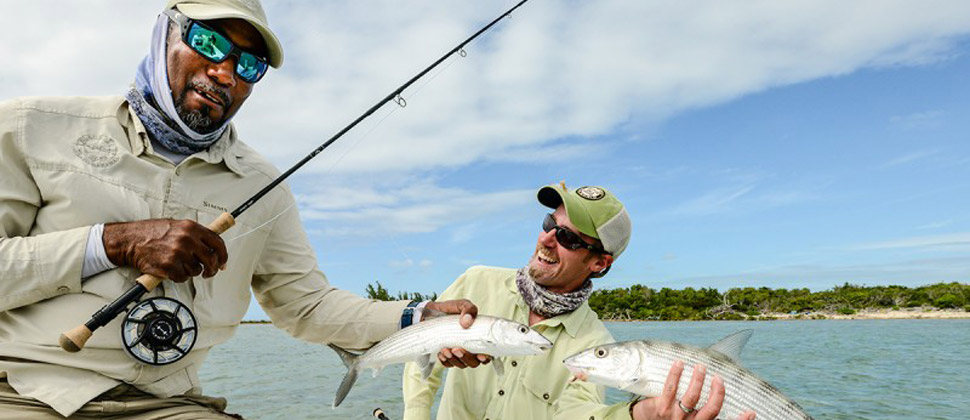 Schooner Bay Profile: Paul Pinder
By Paul Pinder
December, 2013
Blackfly Bonefish Lodge's Head of Fishing Operations explains how he got into the business of bonefishing and shares some thoughts about what makes Blackfly, Schooner Bay, and indeed all of South Abaco, so special.  I was born in Sandy Point, Abaco in 1965 to Edward and Isadora Pinder. I left Sandy Point in 1980 to complete high school in Nassau, returning home in 1986.  Sandy Point is a small Bahamian fishing village. The people here are hardworking, friendly and caring.  Sandy Point has changed over the years.  As a kid growing up in Sandy Point, I spent many days on the bay fishing and exploring. The young people today don't share that same enthusiasm; they prefer to be texting or on their computers. But, my love for fishing developed at a young age.
I spent a lot of time fishing on the beach as a boy and have always enjoyed being on the water, hunting for fish. Becoming a fishing guide added a new level of appreciation, and today I get a great deal of satisfaction from watching people enjoy themselves on the water, catching bonefish and the elusive tarpon and permit. However, I have not always been a fishing guide. When I came back home in 1986, I fished commercially with my father.
One day, some people from a fly-fishing booking agency came to Sandy Point in search of a new sport-fishing destination. They found that Sandy Point had good fly-fishing and thus, looked for persons interested in guiding. There were eight of us who attended the meeting to discuss the possibility of becoming bonefish guides. Thus, my bonefishing career begun.  I was contacted by Clint Kemp some five years ago about an idea he had for a bonefish lodge at Schooner Bay. At that time I was having conversations with some other people about opening a lodge here in Sandy Point, so I was unable to commit to working with Clint initially.  But, the plans for Sandy Point ultimately fell through, so I contacted Clint and we decided to work together.
I am now the Head Bonefish Guide at Blackfly.  I think Blackfly is special for what it offers to clients: a family-style atmosphere.  We cater to smaller groups. The lodge only has eight rooms and runs four to-five boats at any given time, so the experience is intimate and comfortable. The accommodations are very nice, the food is excellent and we are a part of a larger community in Schooner Bay and South Abaco. Blackfly is a unique operation and I am proud to be a part of it. We have a team of guides who are hardworking, skillful and knowledgeable, and who make sure that the anglers have a great fishing experience.
At Blackfly, we fish six different zones in order not to put too much pressure on one area. This also allows us to fish in most weather conditions.  You can fish for bonefish year round in The Abacos. Weather is the main challenge. Other challenges we encounter are first time fly-fishermen who are not accustomed to the windy conditions that we sometimes experience. Even experienced fishermen can sometimes face challenges on the flats. For example, trout fishermen have a different fishing technique than bonefishermen. They set their hooks by raising the tip of their rods, whereas with bonefish we use a strip set.
Part of my job is making sure clients of all experience levels have a good time, so there is a big instructional aspect to guiding.  Because of this, we founded a Guide School Program at Blackfly Lodge.  As part of this program, we go into communities in South Abaco and teach the art of guiding to the younger generation with hopes of finding future guides. This too has been a rewarding experience and is one example of how Blackfly is helping our community by creating jobs and teaching people marketable skills.
We have many ocean resources in South Abaco, and Blackfly is committed to helping show the community how these resources can create more opportunities for hardworking and dedicated persons. Schooner Bay has also had a very positive impact on our community by creating jobs in South Abaco and by allowing Bahamians and visitors alike to experience family island lifestyle.  I hope that the readers of this newspaper will come pay us a visit at Blackfly. The fishing is excellent and we'd also be happy to show anyone around the facilities or even prepare a meal with advanced notice.
This is a very special place and we are excited when new people have a chance to experience it. And the memories go both ways; I have a great time meeting new people and being a part of their fishing experience. Oftentimes I end up learning a lot from my clients. For example, I recently took Flip Pallot (host of the Abaco-based ESPN fishing show Walker's Cay Chronicles) to Moore's Island. We had a great time and it was definitely a highlight of my guiding career thus far. Whether you're a world famous fisherman or a first time fly-angler, I'm sure the experience will be mutually enjoyable!