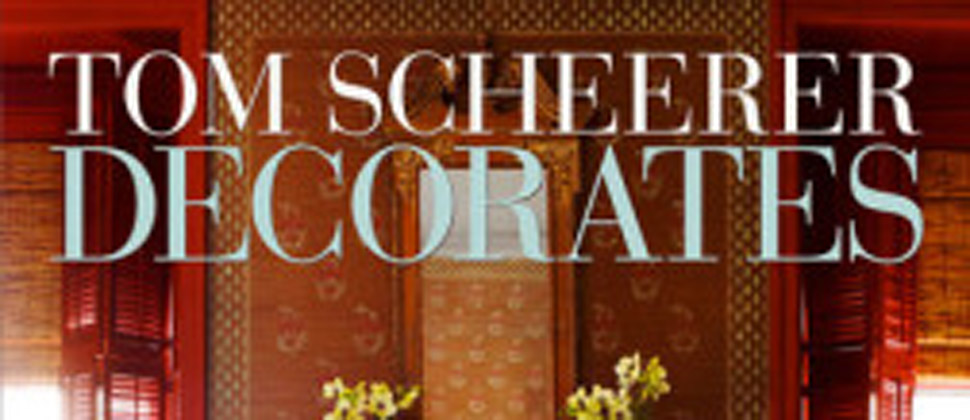 Tom Scheerer Decorates Schooner Bay
Interior decorator, Tom Scheerer, is no stranger to The Bahamas. He has long been a part of the Harbour Island community, having owned and decorated various house in and around Dunmore Town over the years. He also recently completed a redesign of the venerable Lyford Cay Club in Nassau, a project that garnered international acclaim and commendation.
The recently published book, Tom Scheerer Decorates  (The Vendome Press, 2013), is a 240-page retrospective filled with rich images and insightful commentary. The book – part design primer, part storybook, part objet d'art – is a captivating study of Tom's smart style and marks his emergence as a major talent in his field. Tom owns a house at Schooner Bay and was kind enough to share with us some thoughts about our community, his profession and the essence of Bahamian design.
How did you learn about Schooner Bay?  I've been involved at Schooner from the very beginning through my friendship with Amanda and Orjan Lindroth. The initial design charrette was on Harbour Island, where I've owned and designed several houses over the past 20 years. I made gumbo for the planning team that Orjan had assembled! What attracts you to this place, both as a decorator and as an individual? So many of the attributes that originally attracted me to Harbour Island have been factored into the Schooner Bay plan. Village life, pedestrian scale, easy access to open beaches and locally-grown produce are a few of the draws. Describe your house at Schooner Bay.
What did you want to achieve both architecturally and from an interior design stand point? I've been drawing various versions of this house for over 40 years! The basic concept is pavilions around a courtyard. My 50′ x100′ lot presented some challenges, but I managed a design that I think is both stately and cozy. At 1800 square feet with four bedrooms and four baths, it has economy of form, but also a bit of grandeur. The living room is 16'x32' with four tall French windows facing the beach and an almost open wall facing the courtyard. The book highlights that you respect the integrity and character of old houses and try not to "impose your will on every square inch the house".
To this end, how is decorating a new house different than decorating an old house? I'm keeping this house very spare, airy and low maintenance. As I'm building from scratch, I've been able to think through a lot of issues that I might usually have to approach decoratively. A well-designed house requires a lot less decorating. Schooner Bay has worked hard to popularize vernacular Bahamian architecture and further its evolution.
When it comes to interiors, is there a vernacular Bahamian design? A true Bahamian vernacular would ask for simplicity. A comfortable place to sit in the shade and in the breeze, high ceilings to keep things cool, sturdy, easy to- use shutters in case of a storm, and so on. These are the primary and essential elements of the decorating as well as the architecture. Decorating in The Bahamas doesn't have to mean palm trees embroidered on the pillows! My house will be all white with brown shutters and trim, and this will be carried through as a theme to the inside spaces with the addition of blues, aquas and greens as accents. The outdoor living spaces are tantamount and will be furnished like the indoor ones. The indoor/outdoor furnishing will be durable, but comfortable! Schooner Bay has focused on resource and community sustainability in its approach to building and development.
How do you apply these principles to your work in The Bahamas and elsewhere? A major component of sustainability is minimizing waste. I'm very conscious of this in my life. You won't find any bottled water at my house! The locally-grown, low-carbon footprint food that was always a part of the Schooner Bay master plan was a huge factor in my decision to build here. The geothermal systems will be fantastic from an energy standpoint, but also for quality of life in a village setting. No visual or aural pollution. I'm looking forward to walking and biking and not owning a car.
When you approach a house, what a are your over-arching goals? What do you try to accomplish with your decorating? "Achieve the most with the least" is my credo. As I've mentioned, I managed to get a lot into 1800 square feet at my Schooner house. I try to strike a balance between practicality and economy on the one hand and comfort and chic on the other. One of the ways I do this is by having the outdoor living spaces tell the real story of the house. You have proven particularly deft at handling contradictions (in color, texture, pattern, etc.) so that the opposing influences actually enhance a room instead of detract from it. How do you manage to pull it off in a way that creates harmony instead of discord? By keeping it simple. By only trying to tell one or two stories per room and then by making sure that every move contributes in a clear, if not subliminal, way to the chosen theme. What influences did you bring to your house at Schooner Bay? For this house I was influenced in part by the simple whitewashed houses and the life in the Greek islands.
Can you give any advice to those starting out in decorating as a profession? It's all about relationships – with clients, vendors and employees. The design part is, sadly, only a very small component. How about advice for those who may be going at it alone? Any tips for helping someone develop their own style or approach? Without a rational furniture plan a room will never work. The scale of the furniture and the interplay between the various furniture forms are far more important than the fabrics or the things on the wall. Given the success of your career thus far and now the publication of your book, it is safe to say you have entered the upper echelon of your profession.
From a professional standpoint, what are the benefits, but also the challenges, that come along with such acclaim? I would hope the book gives me more authority. People often hire decorators and then not heed as much advice as they should. Decorating, when done properly and well, is a holistic discipline that cannot be "cherry-picked" for individual ideas. This all being said, it's always great when you have the full trust of a client to create a complete atmosphere without too many constraints. I try to be reasonable and if necessary can put the brakes on an idea only as I would for myself!  What's next for Tom Scheerer? Getting into my house at Schooner and enjoying the life there.