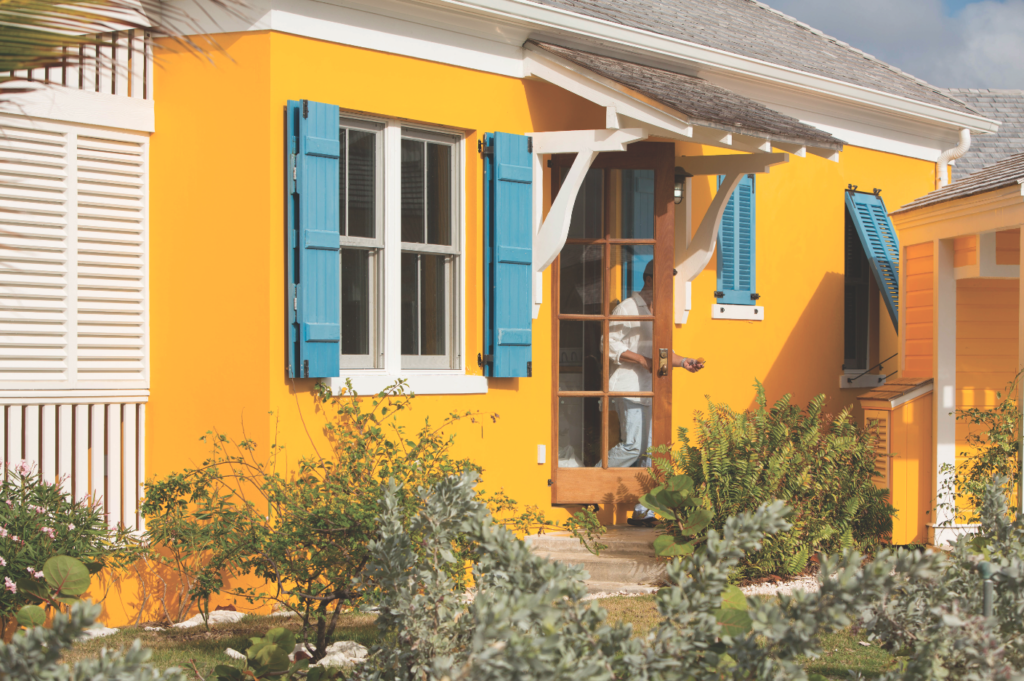 Homebuying in The Bahamas
People considering the purchase of a home in the Bahamas ask numerous questions. The answers are important to the buying decision. Here are some frequently asked questions:
Q.    Can "foreigners" buy a house in the Bahamas?
A.    Anyone can. There are no restrictions based on nationality.
Q.    Where do I start?
A.    You can start with any estate agent, but since you are reading this magazine, we suggest you start at the Schooner Bay Captain's Cottage Sales Gallery. The sales professionals there are ready to answer all of your questions. They're among the best-trained estate agents in the Caribbean region.
Q.    Is the Bahamian tax law difficult to navigate?
A.    No, you will be pleased to discover that Bahamian tax law is substantially simpler and less burdensome than in most other countries.
Q.    But what about all the extra charges, like closing costs and taxes and things we may not have heard about?
A.    Purchase of a home at Schooner Bay is made easy because our representatives offer a complete package, meaning that the price you are quoted is the bottom-line price you will pay. All the fees and any extras you may wish to add will be included in that package price.
Q.    But does that mean the package price includes taxes and all the government fees? And what about the agents' fees?
A.    ALL the costs will be included and fully explained before you make your final decision. The all-inclusive price that you are quoted will remain the price you are expected to pay at closing time. You are free, of course, to add any features you wish before or after you receive the package price. They will simply be added to the total.
Q.    What's the stamp duty?
A.    The stamp duty is an old British method of formalizing a receipt. In the past, most receipts executed under British law had to have a stamp – like a postage stamp – affixed to them before they could be considered legal. In the Bahamas, the stamp duty is shared equally between the vendor and the buyer, and it totals from 8 to 12 percent of the cost of the property, meaning that your share would be 4 to 6 percent. There is also stamp duty on certain items, such as furniture.
Q.    What kind of a deed would I get?
A.    You would receive a fee simple title to your property, meaning that simply by paying the cost plus the fees, you become the freeholder of the property.
Q.    What would I have to do if I wanted to live permanently in the Bahamas?
A.    Foreign owners can apply for permanent residency. You will receive preferential consideration if your home is worth at least US$500,000 or £315,000.
The government of the Bahamas has put in place a number of measures that facilitate homeownership with very advantageous administrative costs and tax benefits.
There are no restrictions on foreigners buying freehold property in the Bahamas
Legal fees are low, ranging from 1 to 2.5 percent of the property purchase price
There are no inheritance, capital gains, or wealth taxes
Foreign owners can apply for residency status
Independent judicial system based on English Common Law
Purchasers buy fee simple title to property

No government approvals are required for first-time 

in the Bahamas
IT'S ALL INCLUDED IN SCHOONER BAY'S PRICING
Schooner Bay pricing is all-inclusive. All fees, stamp duty and taxes with absolutely no surprises. This is a vitally important point – the price you are quoted is the bottom line price, the only sum you will be expected to pay.
Homebuying is remarkably easy here. The government of the Bahamas has put in place a number of measures that facilitate homeownership at very advantageous administrative costs.
IT MAKES SENSE
There are no restrictions on foreigners buying freehold property in the Bahamas
Legal fees range from 1  to 2.5 percent of the property purchase price
Stamp duty ranges from 8 to 12 percent and is usually shared equally between vendor and buyer; there is no inheritance tax, capital gains, tax or wealth tax
Foreign owners can apply for residency status; preferential consideration of applications for permanent residence is given to investors and to qualified owners of residential property valued in excess of US$500,000 (£315,000)
No government approvals are required for first time homebuyers
Purchasers buy fee simple titles to property